18/20  days driving Route 66!
* ADD 2 nights in Fabulous Las Vegas, for just US$195pp! 
Get in touch for full details.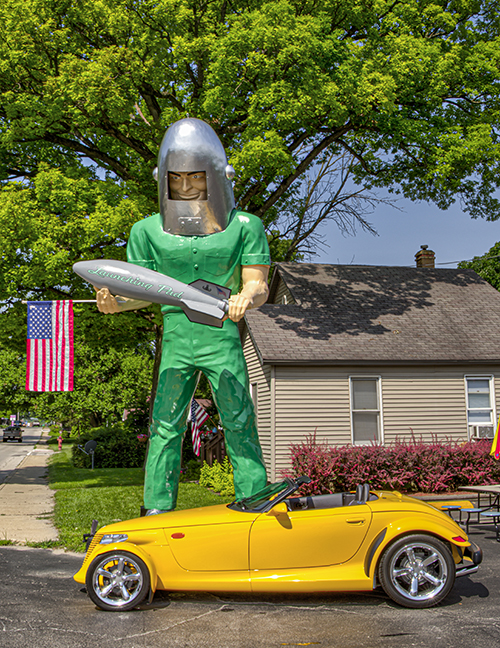 Drive Route 66 for yourself!
If our 26-day tour of the 'Mother Road' just isn't an option for you – don't worry!
Our 18-day, (or 20 if you choose to add Las Vegas)' self-drive' tour is designed for guests who prefer to travel Route 66 unaccompanied, or cannot make our 'Official Tour'.
You just choose the departure date from Chicago – and we provide everything you need to travel across Route 66 on your self-drive odyssey from Chicago to Los Angeles.
On departure day from Chicago, you will be collected around 8:30am and taken to collect your rental car.  
You'll absorb the history of a bygone era whilst enjoying all the modern creature comforts: Bluetooth, Cruise Control, set amongst a modern, powerful drivetrain. 
With a Gilligan's 'Self Drive' tour you can be assured to see the best of Route 66, travelling the original road without the hassle of stopping to check road names, unravelling armful's of maps, or trying to plan your vacation using a pile of confusing books and guides.
With the use of our exclusion turn by turn navigation system and Route Book, we detail each and every day of the journey.                         
Most days are planned around an 8:45am departure, which sees guests arrive at the end of each day around 4:30pm.       
We do all the hard work and you just enjoy each day as It happens!
18 Day Self Drive Tour Prices
1 Vehicle, 2 people (twin-share): US$4,995pp
1 Vehicle, 2 people (2 rooms): US$6,295pp
Add 2 additional nights in Las Vegas for just US$ 195pp!
Quality accommodation – including hotel breakfasts 
One nights accommodation in Chicago (prior to departure)
Car hire: Inclusive of Insurances and 'One-Way' fees
Gilligans' exclusive 'turn by turn' navigation programme across Route 66
Gilligans' comprehensive Route Book with over 130 pages of town by town notes for your journey!
Pre-paid cellphone with unlimited international calls & texts!
Airfares to Chicago, and home from LA 


Add 2 nights in fabulous Las Vegas for just US$195pp! (breakfasts not included in Las Vegas)
Driver/s must be over the age of 25 and hold a valid full driver's license from your home country
All participants must have relevant travel insurance for the USA