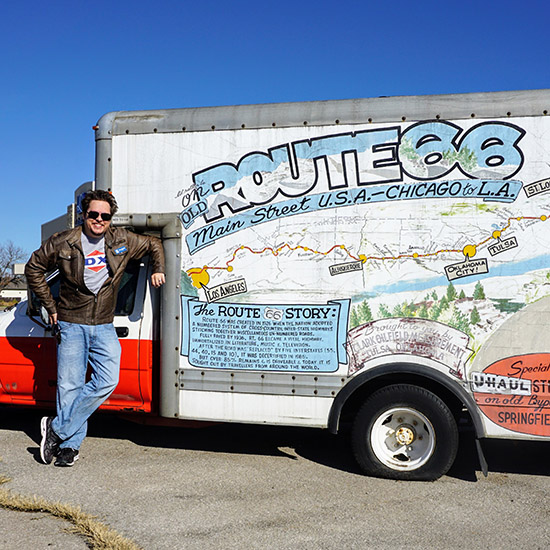 A Route 66 Welcome!
Rhys Martin – Tulsa, Oklahoma
As the President of the Oklahoma Route 66 Association, I meet with many tour groups from around the world that are experiencing Route 66, and realizing a journey that, for many – has been a lifelong dream.
I've had the pleasure of being part of several Gilligan's Route 66 Tours as a local guide.   
No other tour I've encountered has approached Route 66 with such attention to detail and care for the traveler's experience.
The 'separate but together' approach allows each couple to travel at their own pace, yet still have the larger communal experience that makes a road trip so wonderful. You won't worry about what – or who – you might be missing. It's all provided for you.
If you want to see Route 66, see it with Gilligan's. It's a trip you'll never forget.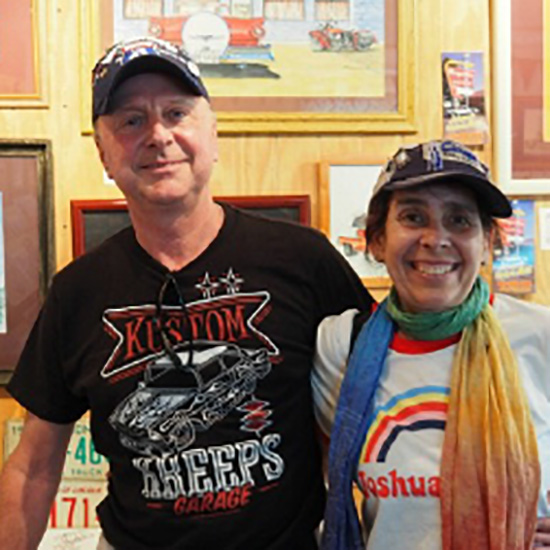 Karin and Rainer
Germany (2019 tour)
What a trip!
Travelling the Route 66 with Gilligans was a perfect choice for us. Sam´s organization of the trip was excellent. For many regions he engaged local tour guides, who accompanied the group for a while and provided every information that could be of interest.
The chosen accommodations were perfect too – sometimes we spend the night in typical Route 66 hotels with their yesterday´s charm, on other days we enjoyed modern equipment as swimming pools or laundry services.
Summarizing this journey we can say, that we have not only seen all the attractions you find in any Route 66 guidebook. The Gilligans tour let us immerse into the world of Route 66.
Last but not least we want to mention that we could strike up new friendships with some very nice New Zealand people, who gave us Germans a very warm welcome within their "Kiwi-community".
Thank you all for the great time we spent together on the Route 66!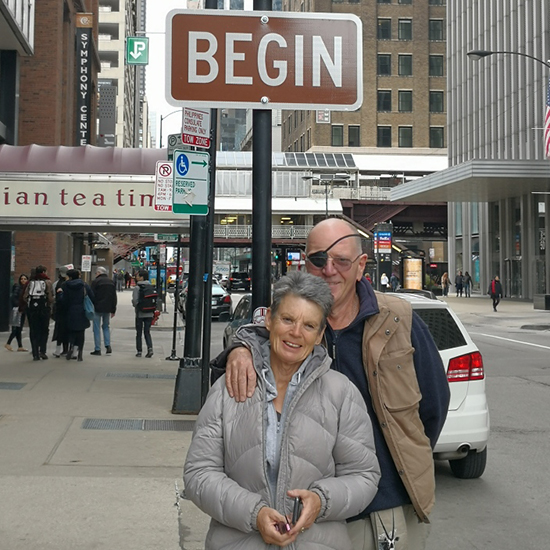 Tricia and David
Upper Hutt, NZ (2019 tour)
Travelling Route 66 with Gilligans and other like minded Kiwi
adventurers was an awesome experience.
A lifelong wish had always been to drive this iconic road, to meet the people
who live beside it and to take in its breathtaking scenery.
Safe in the knowledge that help was never far away, we were free to explore…
Gilligans Route 66 Tour is never far from our thoughts and we often reminisce
about our fond memories of this iconic Highway and our spectacular holiday.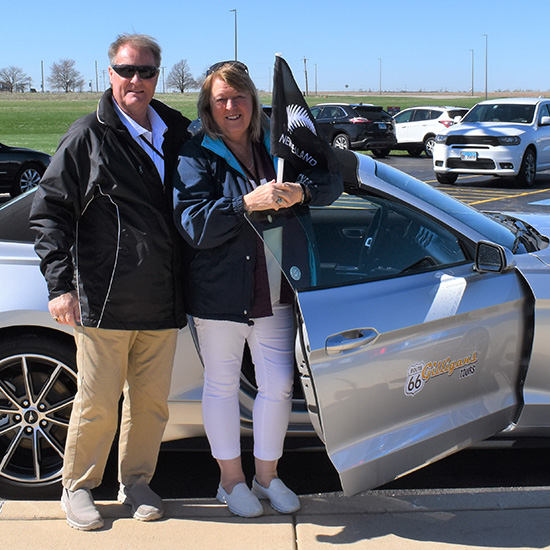 Helen and Les
Tauranga, NZ (2019 Tour)
Firstly, thanks for being a great guide and taking care of us on our 2019 tour.
The itinerary, including driving hours and breaks along with quality accommodation and flexibility in the options were brilliant. 
What made the trip so exciting was that every day was completely different from the day before.
You took great care and attention with the fundamentals (safety, itinerary, meal stops and recommendations), which then made it easy for us to truly enjoy the places and sights you've shown us.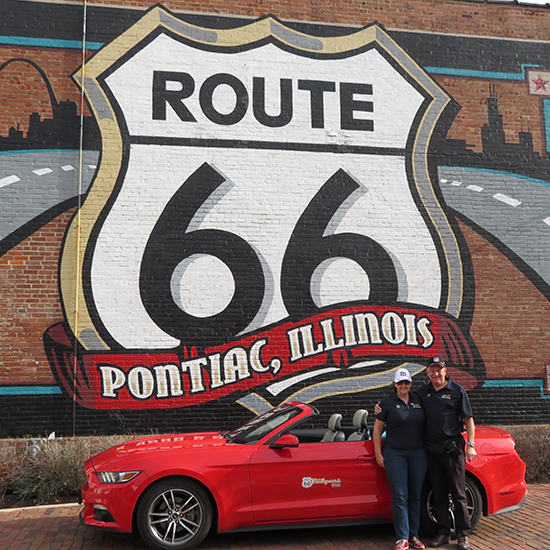 Neville and Ann
Auckland, NZ (2018 tour)
Route 66 was always on our bucket list. Originally planned to do it on a motorbike, but when we realised the miles that tour covered in one day and the short timeframe of the trip we decided to look elsewhere.  Our friends that we were doing the trip with found Gilligans advertisement and we are so glad they did.  Best decision we ever made! 
The whole experience was just fabulous. Not only driving the old Route 66 roads wherever possible, but the people Sam introduced us to along the way.  We even got to watch a baseball game in Chicago (had to have a hotdog at the game!)  The Fun Run from Seligman to Kingman was one of the highlights of our trip (NZ won the teams event for 2018).  During nearly a month together, friendships developed, and contacts were kept up after we arrived home.
We can't recommend Gilligans highly enough – they deliver on everything they say they will.
Sam looks after you all like a mother hen and nothing is too much trouble – even with a GPS we still managed to go down the odd wrong road and Sam was always there to put us right!  Did I mention we drove a Mustang – love at first sight!
Go explore Route 66 with Gilligans, you won't ever regret it.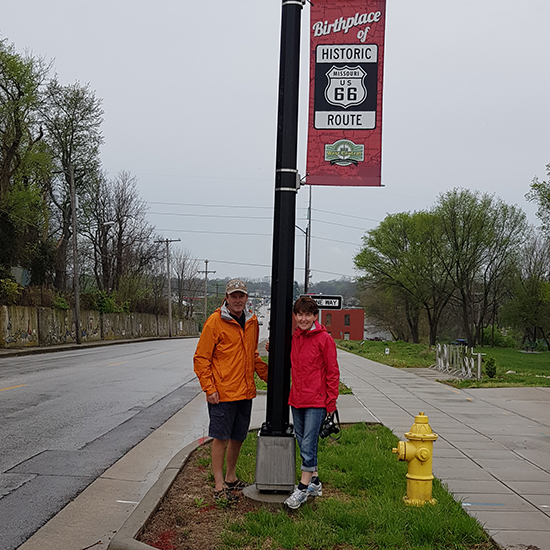 David and Barbara
Gore, NZ (2018 tour)
Born and bred Southlanders, farming near Gore we researched different tours of 66 for about four years.
We gave our teenage kids the farm for a month, and put our faith in Gilligans – Wow they seriously did not disappoint. 
The years of work that must have gone into getting a tour to flow the way it did, is AMAZING.
We both look back now and enjoy the memories along with the focus that was on staying on and true to the original road more than any other tour (even when it looked like the overgrown parts might scratch the car) 
We're blown away by what Gilligans fits into 26 days.
It was: Simply the Best!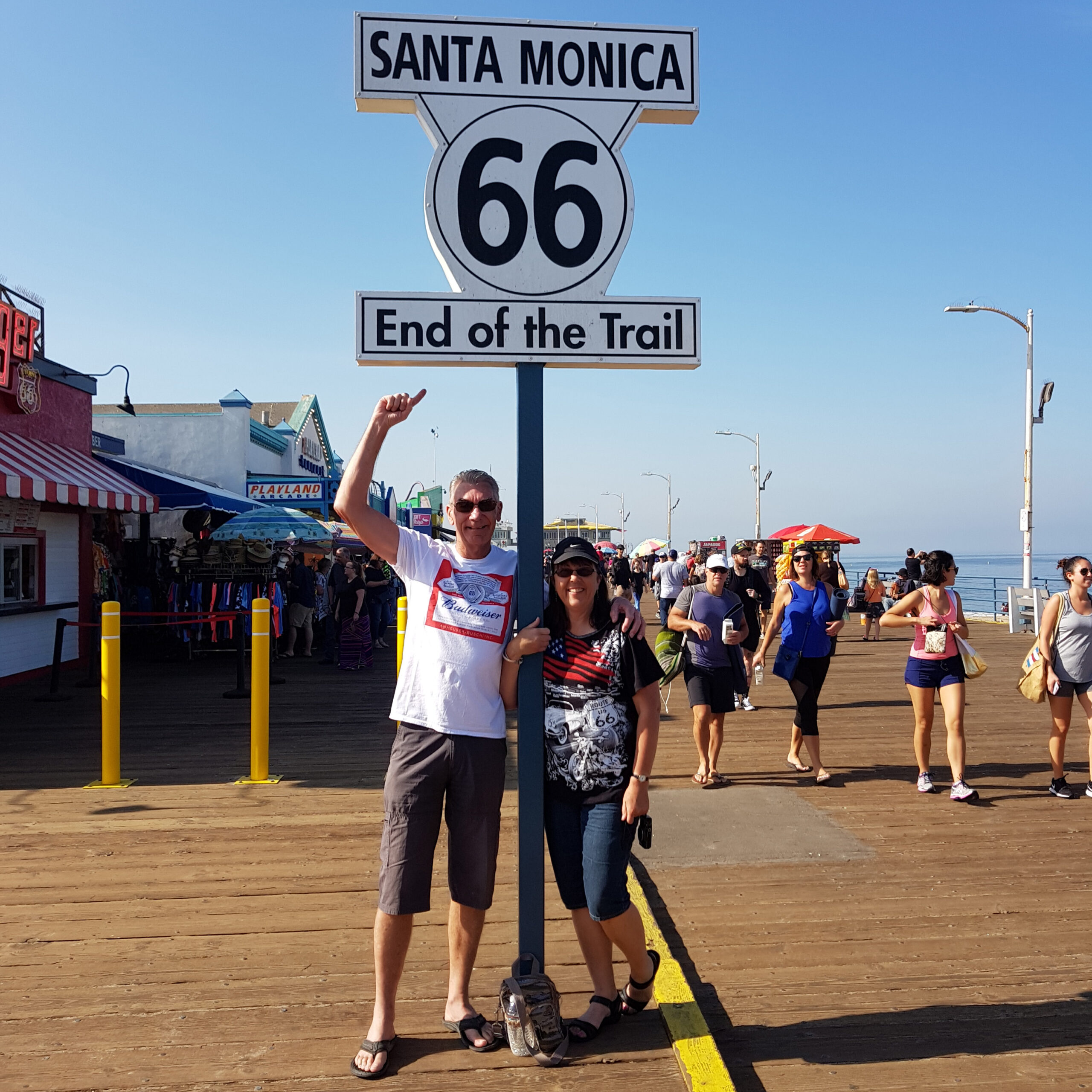 Tony and Diane
Opotiki, NZ (2017 tour)
Gilligans was recommended to me by a friend who had researched a number of available tours for Route 66. After speaking with Sam, I was happy to book knowing that it was a tour organised by Kiwis for Kiwis.
This was a trip I had wanted to do for some time and it far exceeded our expectations on every level. It was a fantastic experience!
We had so much fun and we saw so much more than we could have imagined! The many friendships made with our fellow travelers was an added bonus!
I would certainly recommend Gilligans to anyone thinking of doing this trip.
Thanks again!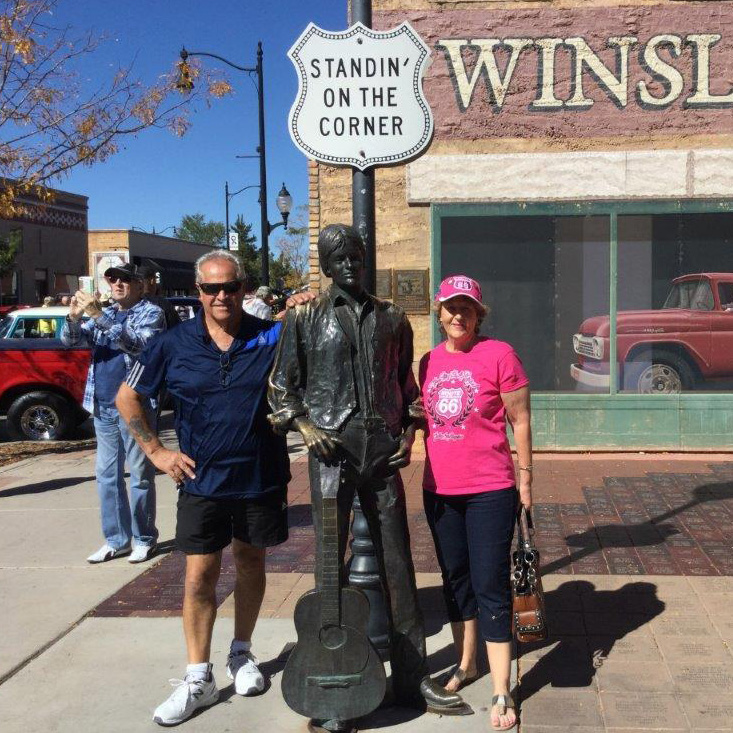 Trevor and Wendy
Auckland, NZ (2017 tour)
Every day was an adventure… Bouncing along some of the old dusty roads, the amazing broken-down old cars piled up in the back yards and meeting the locals in the old diners.
Sam detailed everything with the GPS and the Route-book to perfection. We would retire to bed each night buzzing with what we would encounter on our next day's excursion.
If anyone is considering doing Route 66, all we can say is you've got to go with Gilligans – there is none better.
We made some amazing friends which we still keep in touch with, and we could quite honestly love to do it all over again. AMAZING.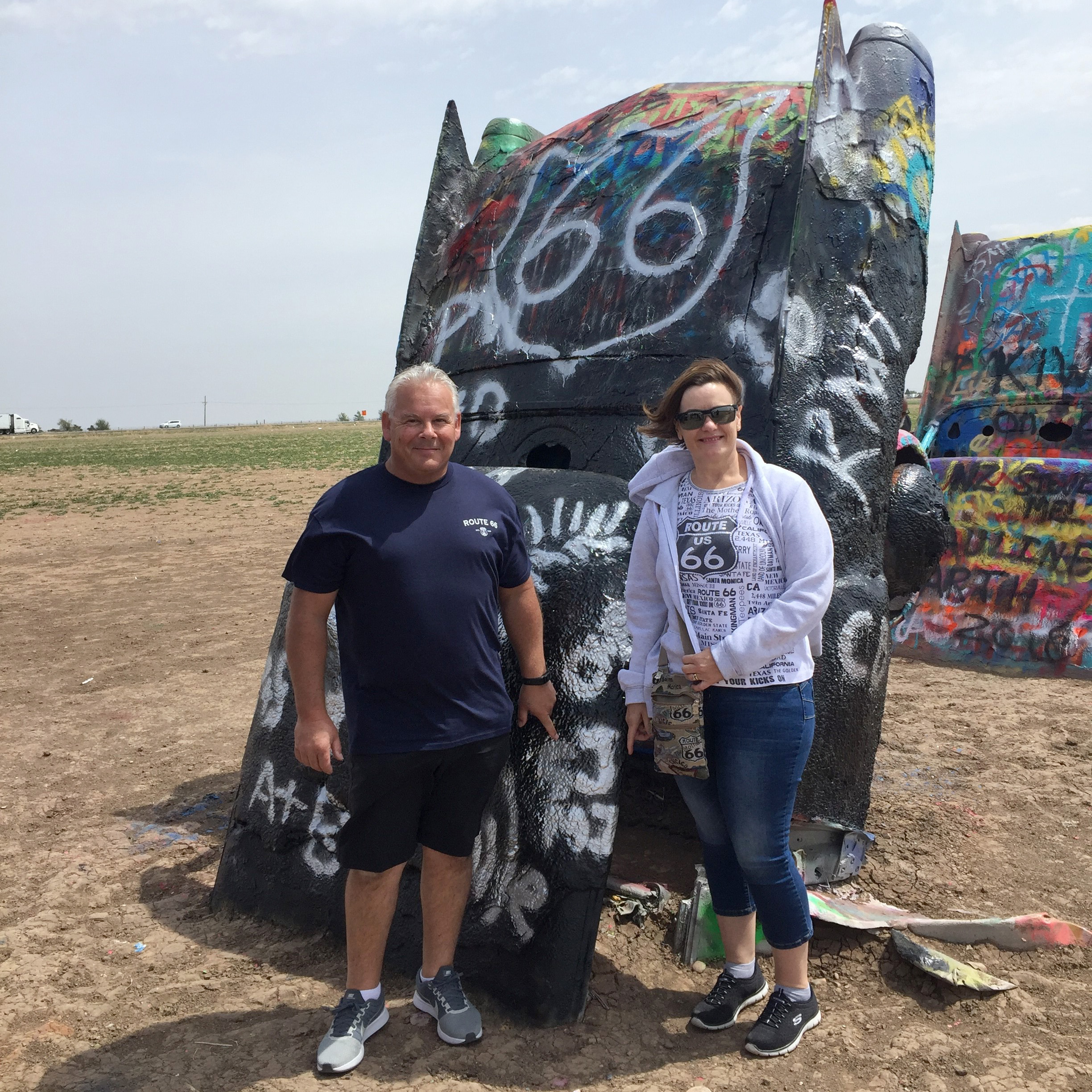 Mel and Steve
'Auckland, NZ (2017 tour)
Gilligans' tour of Route 66 is SO much more than a holiday: It's an experience – one that we're still re-living to each other (and to anyone else who will listen) months after getting home. What's more, we'll still be talking about our Route 66 tour for years to come!
I have to admit though; despite the trip being on our 'bucket list for years, I wondered if it would be more of a 'boys trip' (with the girls following the guys around numerous car museums) I couldn't have been more wrong!
The whole trip, from start to finish far exceeded my (and our) expectations. It was hand on heart the best trip we've ever done, and we've (collectively) traveled the world!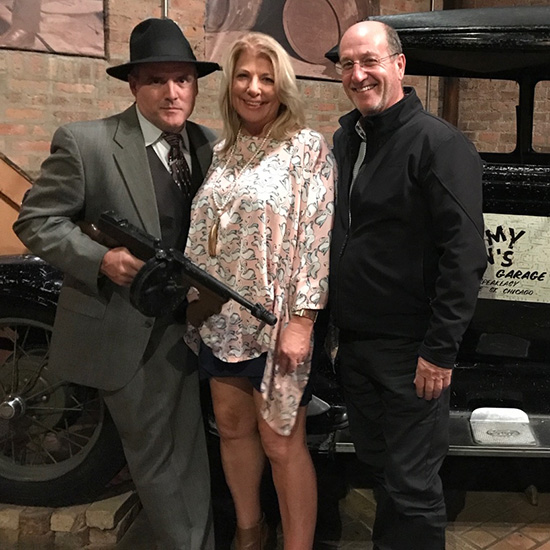 Grant and Elizabeth
Auckland, NZ (2016 tour)
This was more than just a tour; it was one of life's great experiences which gave us dozens of dinner table stories to share with our friends at home for years to come.
Sam has not just cobbled together an amazing array of interesting places to visit, but also unique people to meet, sights to see, sounds to hear & different things to eat. Just don't expect to see a lot of vegetables on the menus in middle America!
Sam is an unflappable organiser who quickly sorts out any bumps in the road without fuss. He quickly moulded our group together resulting a fun journey and long-term friendships.
Gilligans Tours has our absolute endorsement.